News
May 12 2019

Apr. 14 2019

Mar. 20 2019

The pope blew upon the "flame of peace!

The pope blew upon the " flame of peace " when Earthcaravan member asked him to do so as a symbolic gesture of wishing that no such embers from a conflict will ever be ignited again. more >>


The Earth Caravan in 2019-2020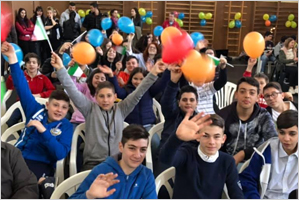 The intention of the Earth Caravan pilgrimage in 2020 is to raise awareness worldwide about the situation of children who live in unacceptable circumstances, in war zones, under occupation, or are refugees. Peace Cycling, Concerts and Festivals will take place all around the world leading the Earth Caravan from Hiroshima to Nagasaki, from Toronto and Montreal to the villages of the First Nations Natasquan and Mingan, and continuing to Vienna and Srebrenica, and then to His Holiness Pope Francis in the Vatican.
In 2020, the Earth Caravan is organizing in cooperation with the Holy Land Trust a peace festival and peace conference in Bethlehem with children and artists from around the world featuring the Peace Flame.
Satoshi Suzuki, a Japanese filmmaker and an employee of Dentsu, one of Japan's most successful and well-known advertising companies, will make a documentary film about this peace festival and conference. The theme will be the impact that youth have on the future of our world.
The Earth Caravan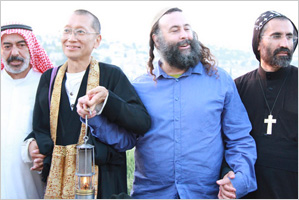 The Earth Caravan is a global interfaith pilgrimage dedicated to peace, healing and justice for the most traumatized places on our planet.
Since 2015, seventy years after World War Two, the Earth Caravan has travelled from Nagasaki to Hiroshima, from Auschwitz to Srebrenica in Bosnia-Herzegovina and to Serbia, and from the First Nations of Canada to Israel and Palestine. Every year, Earth Caravan's prayers and activities, inspire thousands of people all around the globe to work for the bright future we share.
Peace is established only when people overcome differences of race, country, religion, and ethnicity. We believe that it is critical for Christians, Buddhists, Jews, Muslims, and Indigenous peoples to pray and work together, connect, and deepen our shared bonds to establish lasting and true friendships.
The Earth Caravan aims to create a world of loving communities that take care of each other and take responsibility for other people's happiness.
The Peace Flame of Hiroshima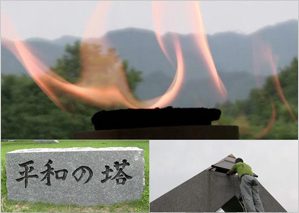 The Peace Flame is an actual flame that Tatsuo Yamamoto took from the embers of the fire following the atomic bombing of Hiroshima on the 6th of August, 1945. He carried it to his hometown, Hoshino village in Yame City, Fukuoka.
The flame has been kept alive in the village as a symbol of peace and remains lit in the town's Peace Tower until now. The mayor of Hiroshima has given the Caravan special permission to bring the Hiroshima Peace Flame on the Caravan's voyage from Japan, to North America, Europe and the Middle East.